Miho Peninsula is located in Shimizu ward, Shizuoka city, in Shizuoka prefecture, approximately 45km southwest of the summit of Mt. Fuji. Its approx. 5km-long coastline is lined with a grove of pine trees.
This grove is known as Miho no Matsubara. Near its center is a pine tree called the Hagoromo no Matsu, renowned as the setting of the Hagoromo (feather robe) legend, in which a local fisherman encounters a celestial maiden.
In 1922, Miho no Matsubara was selected as Japan's first Site of Scenic Beauty, "a place of superior scenery with its coastal pine grove set against the stunning backdrop of Mt. Fuji."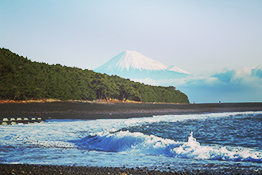 Pine Trees and Japanese Culture
In Japan, pine, which stays evergreen even in winter, is considered a sacred object home to kami (Shinto spirits). It is used for kadomatsu and other New Year's decorations, as well as celebratory occasions such as weddings and births.
In China and Korea, pine is similarly associated with good fortune, and serves as a symbol of purity, dignity and longevity.
Sea waves carried sand and gravel from the Okuzure coast, the mouth of the Abe River, and the wave-formed cliffs south of Mt. Udo toward the east along the coast, forming the Miho peninsula into its long and thin shape that extends out off the coast of Komagoe toward the northeast.
This landform created by a flow of sand and gravel is called a sandspit. The sandspit of Miho used to grow by three meters a year.
The influence of ancient Chinese philosophy led Mt. Fuji be called Mt. Horai for a time, and mountain hermits are said to have resided on its slopes. Miho no Matsubara was the "bridge" connecting Mt. Fuji, the home of these mountain hermits, to the realm of humans.
Miho no Matsubara was always depicted together with Mt. Fuji, and was known as a gateway to the mountain.
A sacred place long renowned for its view of Mt. Fuji, Miho no Matsubara features beautifully in the Hagoromo legend, and has been known by the Japanese for centuries.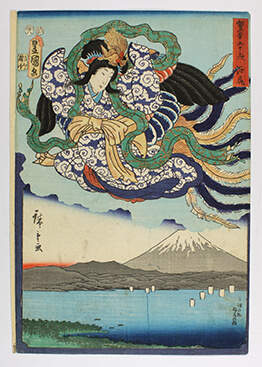 In the Edo period (1603-1868), Miho no Matsubara was protected by successive Tokugawa shoguns as the fief of Miho Shrine. Cutting down the lines of pine trees kept by the shrine was strictly prohibited.
During the Meiji period (1868-1912), land belonging to Miho Shrine was sold off to the public and, at the same time, many pine trees were cut down with the plan to sell them. In 1898, Miho no Matsubara was designated as a forest preserve by the first Forest Act and in 1922, as one of Japan's first sites of scenic beauty.
During and after World War II, however, a great deal of pine trees were cut down for fuel and salt production, significantly shrinking the area of the pine grove.
Regardless, locals continued the work to preserve the pine grove, such as by planting young pines where they had been cut down. This is why the pine grove at Miho still stands today.
The "new three views of Japan," modeled on the "old three views" of Japan were selected by readers in a contest held by Jitsugyo no Nihon Sha in 1916.
"New three views of Japan"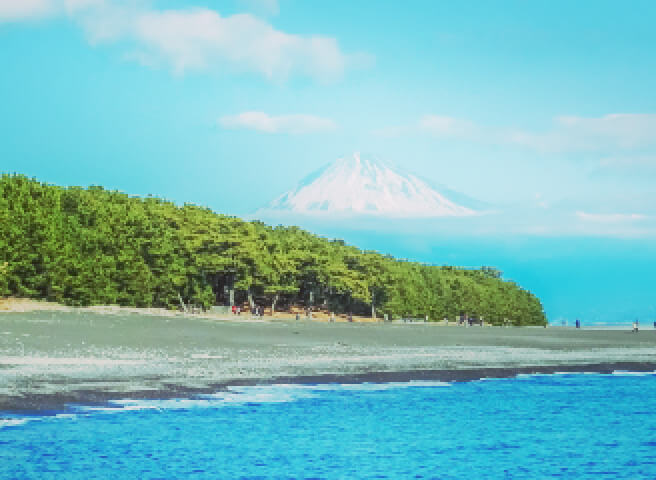 Miho no Matsubara, Onuma (in Nanae, Kameda, Hokkaido) and Yabakei (in Nakatsu, Oita)
"Three pine groves of Japan"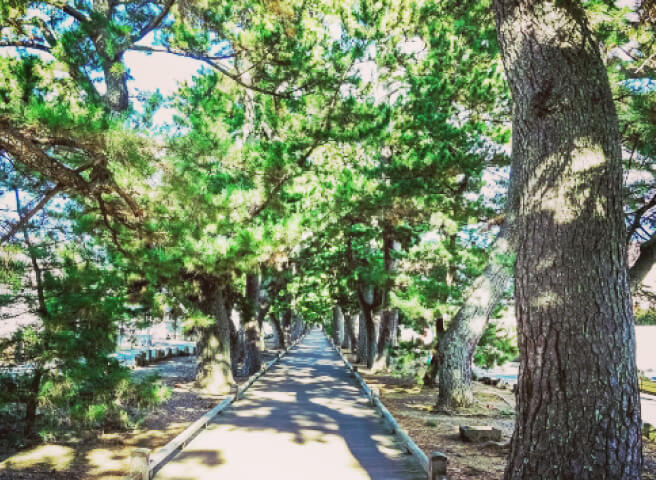 Miho no Matsubara, Niji no Matsubara (in Karatsu, Saga) and Kehi no Matsubara (in Tsuruga, Fukui)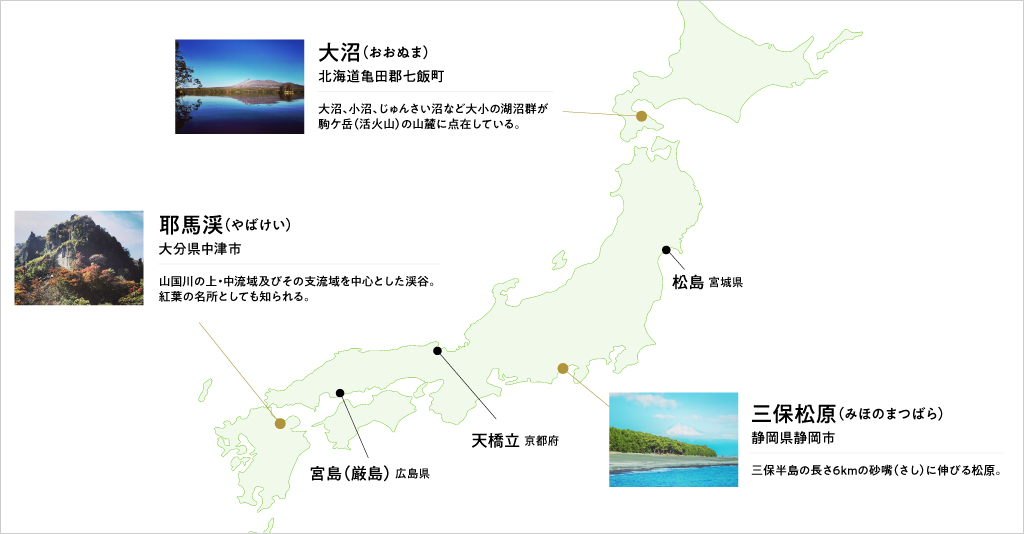 Registration as a World Cultural Heritage Site
Mt. Fuji registered as a world cultural heritage site
The 37th World Heritage Committee session took place in June 2013 and Mt. Fuji was registered as a world cultural heritage site, "Fujisan, sacred place and source of artistic inspiration.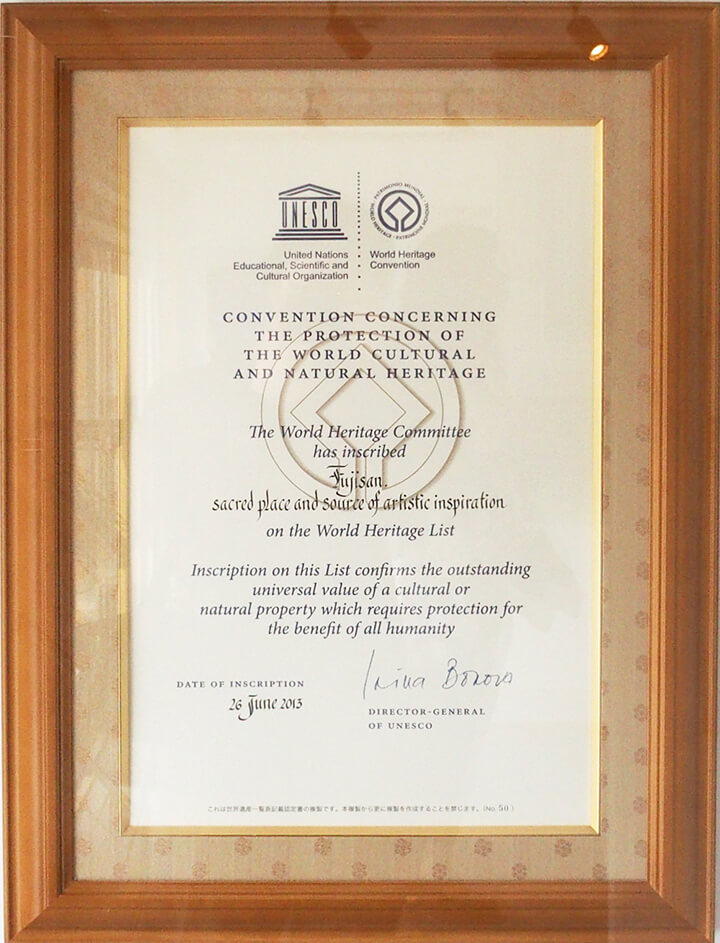 The world heritage committee has inscribed "Fujisan, sacred place and source of artistic inspiration," on the World Heritage List. Inscription on this list confirms the outstanding universal value of a cultural or natural property that requires protection for the benefit of all humanity.
Date of inscription: June 26, 2013
Director-General of UNESCO: Irina Bokova
Area of Miho no Matsubara, a cultural asset of the Fujisan world cultural heritage site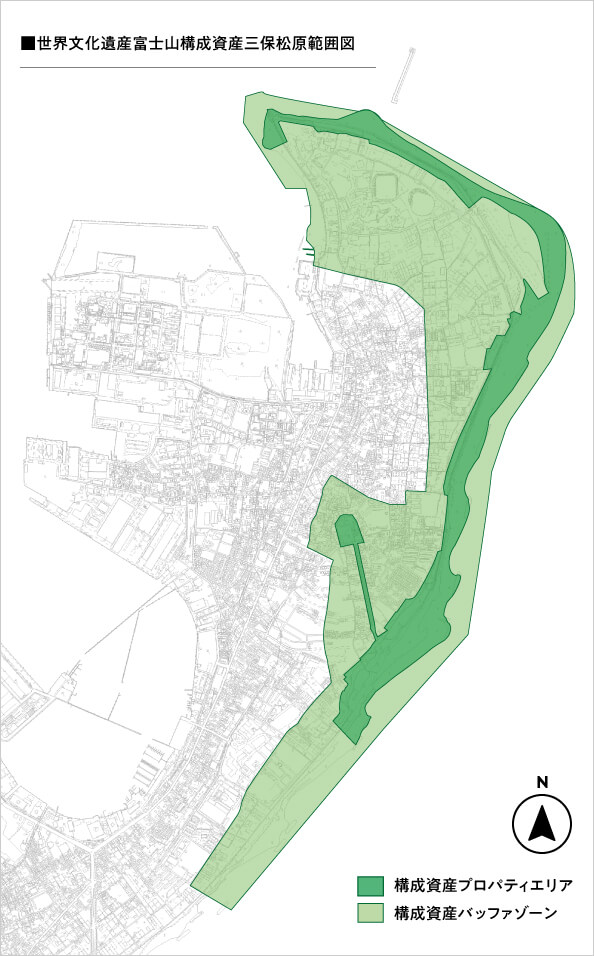 An area of 64.4 ha centered around the core of the designated site of scenic beauty, namely Matsubara, the sandspit, and the beaches, is the cultural asset.
An area of 252.0 ha surrounding the cultural asset is a buffer zone to prevent potential negative impact on the environment or landscape.
Miho no Matsubara has been ravaged in the past, as well. But the reason it remains a scenic spot and component part of the Mt. Fuji world cultural heritage site is the tireless efforts of the locals who love Miho. The area's beauty is a testament to their hard work and commitment.
Nowadays, more and more citizen groups and locals are joining efforts to clean up Miho no Matsubara and preserve it.
The scenery here, which has captured the hearts of the Japanese since ancient times, is a treasure of Japan to be shared with the world. It is our duty to continue to protect Miho no Matsubara.