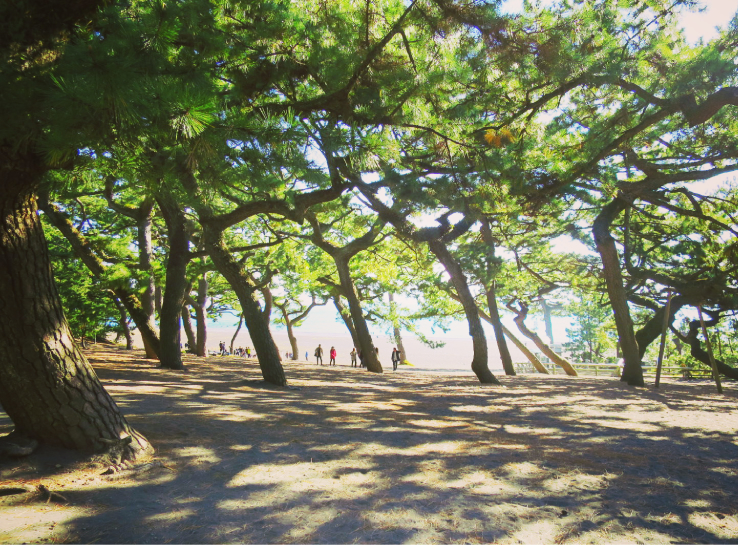 A Sacred Place and Source of Artistic Inspiration
Miho no Matsubara is a scenic area of the Miho Peninsula located within the Shimizu Ward of Shizuoka City in Shizuoka Prefecture.
Because of its beauty, Miho no Matsubara has been chosen as one of the Nihon Shin Sankei (a list created in 1915 of Japan's three most celebrated scenic locations) and the Nihon Sandai Matsubara (a list of Japan's most celebrated pine groves).
It is also a registered constituent asset of the "Fujisan, sacred place and source of artistic inspiration" UNESCO World Cultural Heritage Site.

The Miho no Matsubara Culture & Creativity Center is a destination for both Japanese and overseas visitors who wish to enjoy the scenic beauty of the Miho no Matsubara and the majestic Mt. Fuji; it is a repository for the folklore - like the Legend of the Feather Robe - and the many culturally significant paintings and poems which Miho no Matsubara and Mt. Fuji have inspired; and it is a hub for promoting and facilitating the efforts of local residents and others who have worked diligently to preserve the pine grove.
From March 30, 2019, the Miho no Matsubara Culture & Creativity Center will be a valuable resource for anyone who wants to learn more about the history of the Miho no Matsubara and the efforts being made to protect it.